Business etiquette in Germany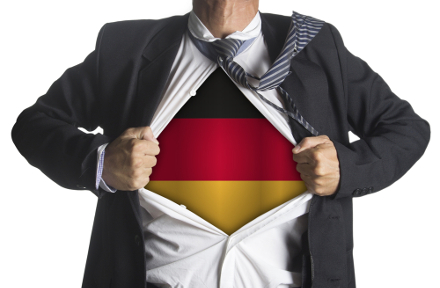 It's a well-known fact that Germany is a country with high standard of living. If you're in touch with a partner from this country, requirements to the meeting are equally high. However, all you need is to remember and stick to the following rules.
All people have heard the notorious notion of punctuality, though not everyone knows its real meaning. A person is "punctual" for a German if he comes to the meeting at least 10 minutes earlier. If you're bound to be late, you should provide a really credible explanation.
Addressing someone using his name and patronymic name isn't popular in Germany. Instead, you should use the word "Herr"/ "Frau" accompanied by a certain person's surname.
It's the custom to shake hands here rather than saying "Guten Tag" to the person. The explanation is simple: everyone is equal. Just bear in mind not to offer your hand to the person in case you're inferior to him.
Germans are keen on protecting their personal space. While starting a conversation, make sure not to mention salary or private life!
Having received an invitation to a business meeting from a German-speaking individual, you needn't scratch your head over your dress code. It's classical. Only, if you're a woman, don't put on too much make-up.
Germans are a very foreright nation. So, making senseless talks isn't their cup of tea.
Working out long-term plans should be your motto.
Your partner can invite you to a restaurant. In this case, consult a phrasebook to ensure, for instance, that you won't forget to pronounce "Prost'' while offering a toast. You wouldn't want destroy your first impression, right?
Remember the most obvious mistake
It seems apparent but the topic of the Second World War is out of the question!
To give or not to give: that is the question
It's not the custom to give and receive presents in German society. But a souvenir (a matryoshka) or an office accessory (a quaint pen) will do. But this isn't relevant to government-owned institution officers: they can understand this attempt to please them as bribery!
Let's hope you'll strike a profitable deal with your German partner while armed with the above-mentioned advises!